While deciding what decor to put in the nursery, I knew I wanted it to be simple, homemade (if possible), and have a modern farmhouse style. Once I picked a color scheme I figured out quickly what I wanted to make and was able to get to work. Above the crib I wanted something with color (since our crib is white), but yet lightweight in case it fell down. Bunting was the perfect solution! I collected lavender and gray fabric from a few places including Joann Fabrics and Sew to Speak, also some I had leftover from the king quilt I made a few years back. To make the shape of the bunting pieces I used the triangle from this Silhouette store shape set with a width of 5 inches and cut two triangles per bunting piece that I wanted. I put the wrong sides together (the non-print side), and sewed them together like the diagram below.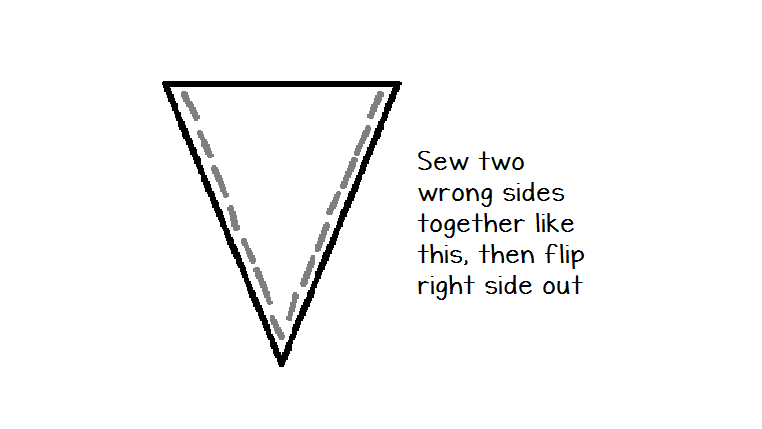 Once I had all the pieces I wanted, I lined them up next to a long piece of 1/2 inch wide bias tape, then pinned them in place, sliding each bunting piece between the two sides of bias tape. Finally I sewed them with a 1/4 inch allowance, and trimmed the tails so they wouldn't be too long, then hung it up above the crib. Completely darling!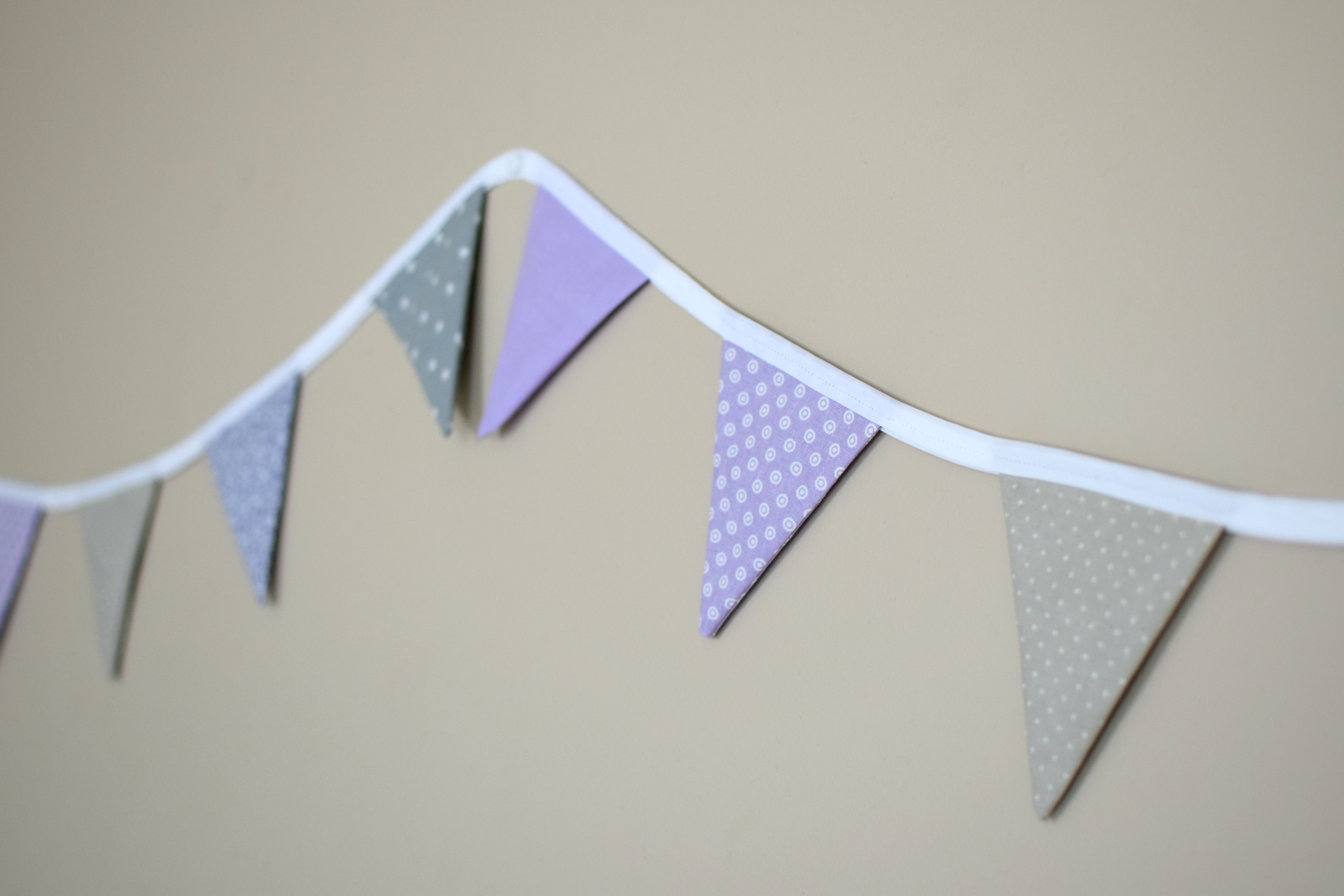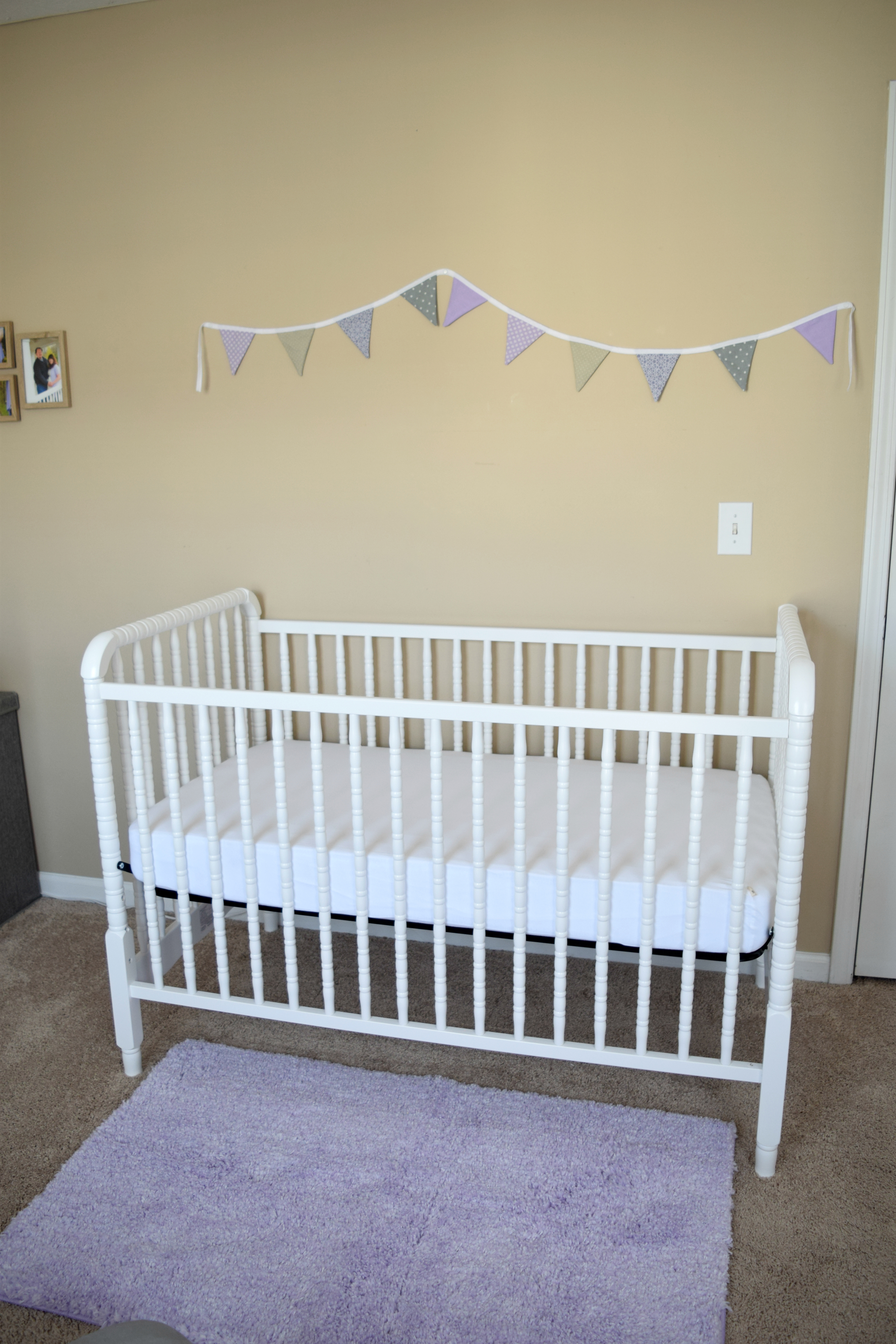 The second part of this post is about the felt ball garland I made to go under the wall bookshelf. Have you seen felt balls before? Using felt balls is one of my favorite ways to decorate, whether it be in a garland, poured into a mason jar, or scattered on a flat surface. They can be found at craft shows, or various places online (like Etsy!), and I have a small collection of colors already 🙂 Anyway, I found a purple variety pack via the website, Jane, that I used in combination with some lavender and mini cream colored felt balls I already had. The pack came with white bakers twine and I only needed a thick needle to push through each felt ball until the garland was complete. It's a very simple decoration to make, and looks SO cute!